February 26, 2008 | Filed Under Activism, political | 1 Comment
February 26, 2008 | Filed Under Activism, Humor, political | 2 Comments
Is Barack Obama more popular than Jesus in Texas? Some heathens would argue this is the case!
Barack Obama home-made bumper sticker
February 26, 2008 | Filed Under Elections, government, News | Leave a Comment
Sometimes a headline just catches your attention, and this article's title certainly caught mine.   Senator Clinton can unite the country by dropping out now!
February 23, 2008 | Filed Under Activism, political, propaganda | Leave a Comment
February 22, 2008 | Filed Under Elections, News | 1 Comment
Hillary Clinton almost had a big moment during last night's debate
In what looked like, possibly the best moment of last night's debate for Hillary Clinton with the audience at the edge of their seats, Clinton bombed on a one-liner.  Hillary said that if this primary election is going to be made on words, then they should at least be your words.  The audience was rowdy and sounded like they were going to give Clinton a standing ovation.   What happened next was typical of what has happened throughout this Democratic primary.  Hillary didn't stop while she was ahead, she wanted to go in for the kill.  "That's not change that the people can believe in, it's change you can Xerox…" After that statement, Clinton almost got booed off the stage!
Here's a clip of Hillary's moment with a rebuttal from Barack Obama's supporters regarding her lifting of previous phrases.
"Change you can Xerox"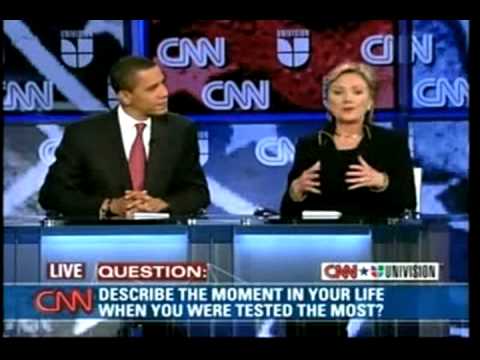 What does this segment of the debate tell us about Hillary Clinton and the democratic party?   Not a whole lot because it's a lot of the same old bickering between two prominent candidates that most Democrats share an affinity towards.  We're starting to see a trend from audiences that show up to these Democratic debates, it seems like more than anything they want both candidates to come out "winners".
Die-hard Democrats are still holding out hope for a "dream ticket."   I'm not so sure that Hillary Clinton would be ready to play second fiddle, unless of course you take into account that she would be in a great position to be president in 2016.  Barack Obama isn't ready to be a VP either and with or without the VP slot, because of age, he may be in a position to run this campaign again if he doesn't win the nomination.
February 21, 2008 | Filed Under deception, media, Media Bias | Leave a Comment
What else could explain his latest hardball piece where he grills an Obama supporter?
Chris Matthews has received a lot of flack from Media Matters and other progressive groups that have come out angrily over his targeting Hillary Clinton with his airtime on MSNBC.  I agree to an extent that Chris Matthews has been a bit hard on Hillary Clinton, but my objection has more to do with manipulation than Hillary herself.  It seems that some of his opinions on Clinton were proclaimed with the specific point of tarnishing Hillary Clinton's image.
Now, Chris Matthews nailed a Barack Obama supporter for not being "on the ball" with his support of Barack Obama.
Is Chris Matthews being too hard on "Hardball"?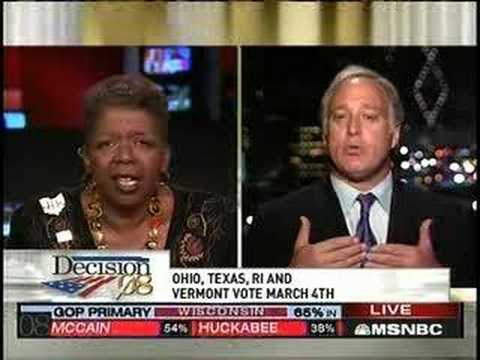 February 18, 2008 | Filed Under Activism, Humor, political, religion | Leave a Comment
President Bush on Abortion.  "You know where I stand"
February 17, 2008 | Filed Under Activism, political, propaganda | 1 Comment
I'm shocked that I missed out on this bit of American culture.  It's a magnificent video in my mind because it perfectly captures the rage that is building inside of the soul's of the younger generations of America.
Patriotism is for the Weak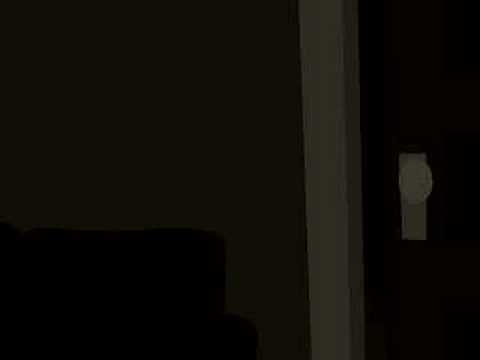 February 17, 2008 | Filed Under Elections, News | Leave a Comment
Milwaukee – Wisconsin, Barack Obama fires back at Hillary Clinton for continuing to attack Barack Obama on his speeches.  Obama calls out Clinton on the negative attacks and says that the American people don't want this, they want someone that can inspire people to work together to solve problems.
Barack Obama "Just Words?" Speech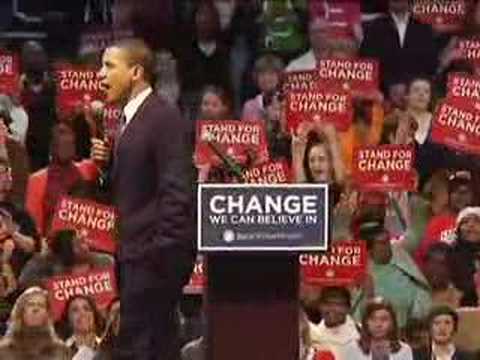 Up until now, Hillary Clinton has had no answers for Barack Obama's surge in momentum.  Her negative attacks are coming off as sour grapes and shooting down idealism and the promise of hope is dangerous for any politician, post-Bush.
February 16, 2008 | Filed Under Activism, political, Speeches | Leave a Comment
Better late than never.
"Yes we can" movement, Idealism at its finest
Song & video, featuring a star cast, by Will.i.am of The Black Eyed Peas. Inspired by Barack Obama's 'Yes We Can' speech.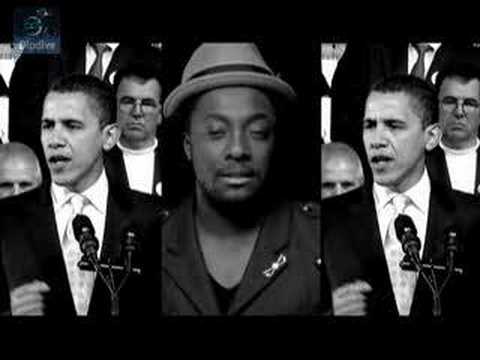 Do you believe?