August 7, 2008 | Filed Under News | 3 Comments
Many analysts have predicted that the worst of the economic downturn has yet to come.  Despite the fact, we're now at a six year low in terms of jobless claims.
According to the Department of Labor, new applications for unemployment insurance rose to 455,000.  As of August 2nd, this increase means that claims are at the highest level since March 2002.
Efforts to excuse this staggering news were minimal, with the exception of an analyst that blamed technological advancements intended to track jobless benefits as a reason for the higher than expected claims.
August 7, 2008 | Filed Under Government, News, Scandals | 3 Comments
Another Republican bites the dust.
Scott Muschanny, a Missouri State Representative was indicted today for sexual assault of a minor.  The victim is a 14 year old girl who happened to be the daughter of a state employee.  The even more disturbing twist is that it seems he was romantically involved with the girl's mother.
Yet another case of a Republican desecrating the sanctity of a divine union between a man and a woman,… with a child no less.   Quite pathetic.  note: Picture and full story at  STLToday.
July 31, 2008 | Filed Under News | Leave a Comment
For those readers that know me personally, you're probably aware that I have an online presence on numerous forums and blogs.   As the tone and content of my sites is very focused and similar, I've decided to merge my Viral Politics blog with this one.  Unfortunately, I don't have a large staff to produce and edit content for me, so I'm stuck doing just about everything and wearing multiple hats can be very taxing on the soul.
On a positive note, if you are a fan of this site, you'll get more of the same content and hopefully a more frequently updated blog.   Thank you all for the support and I look forward to continuing the struggle to fight for a better America.
-Fred
June 19, 2008 | Filed Under government, News, War | 1 Comment
The New York times published an article about the rise of big oil post-Saddam.  Over thirty five years after Saddam Hussein ousted the major oil companies as he rose to power, our major oil companies are looking to get their hands on Iraq.   I guess the bigger question is, "Is the United States ready for the return of big oil?"
April 2, 2008 | Filed Under News | Leave a Comment
Few non-partisans would disagree with Ron Paul's assessment on the federal reserve and the future of our country and economy.
They say they want a Revolution,…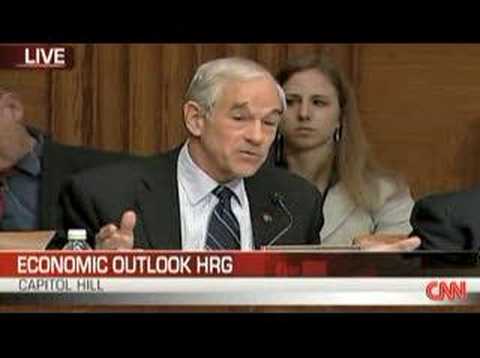 "We've really given up on freedom of market place" and more "collusion of business and government" which "causes bubbles to occur, then prevention, and a vicious cycle continues.
April 2, 2008 | Filed Under Elections, government, Interviews, News | 2 Comments
Larry King interviewed Jesse Ventura last night and had a number of interesting questions for the former wrestler-turned-politician.
Mr. Ventura spent most of the interview trying to turn the conversation to revolution and the sham that has become our political system.  He called for destruction of all political parties and said people shoud run on their own merits and that it is the two-party system that has harmed our country, he pointed at the economy and war in Iraq as a joint effort by both parties and insisted that he would never participate as long as the only options for president are Republican or Democrat.
"I never vote Democrat or Republican,… I will pick someone else, a libertarian on the ballot. Someone else. I will not vote for a republican or democrat. I don't do it every election — I wish they would allow none of the above on the ballot."
Ventura says he won't run for President because the bar has been set too high for independents.
 "they make an independent like me jump through 50 different hoops,… every state has different things you have to do to qualify to get on the ballot"
In addition to the criticism of our democratic system for being unfair to independent thinkers, he insisted that he wasn't bitter about his prior withdrawal from politics.  His wife was suffering from illness at the time and he said he would put his family before anything, it was a no brainer he contended.   In all, Jesse Ventura looked like a strong prospect for an independent or libertarian run.
Ventura was certaintly not lacking in enthusiasm, although some of the analysts brought a bit of their ideology to the debate and it did take some of the wind out of his sails.  He wanted no part of the Hillary Clinton / Barak Obama primary discussion, although he did say he respected and admired Hillary Clinton as an intelligent politician, he had no interest in talking about the system in place.
Is it possible that Jesse Ventura will run for President?  No, not very likely, but he did say that if the sham system were replaced with something fair that no candidate would stand a chance.  He called Republicans and Democrats afraid of him because they know that he could beat them with his hands tied behind his back.
March 10, 2008 | Filed Under Activism, Elections, Humor, News, political | 2 Comments
Lots of pictures have been released with Barack Obama as the "star", here are a few that went viral recently:
Barack Obama outside the White House
Barack Obama, Jedi Master
Barack Obama, All-American Action Hero
March 1, 2008 | Filed Under Elections, government, News | 2 Comments
I've argued it before, and I'll broach the topic again because it's relevant to the times.  Bill Clinton was the Barack Obama before the liberal messiah made it to the fore-front of  American politics.  I've always had an affinity towards Bill Clinton and deep inside lays this hope that if Hillary Clinton wins the nomination, he might rub off on her with his good politicking and charm.  However, Barack Obama is already that person that Bill Clinton was in a lot of ways.  Though Obama does knock on the Clinton years at times, the truth is that the two men are very much alike in their ability to electrify crowds, think independently and appear presidential.
Bill Clinton in 2004, on the politics of fear and hope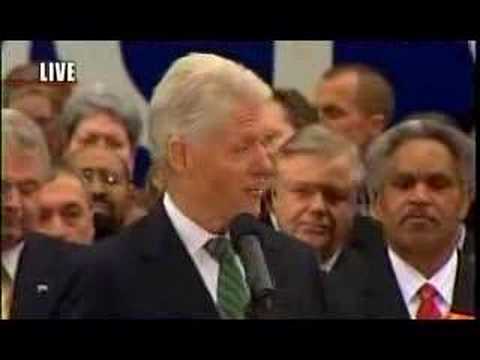 February 26, 2008 | Filed Under Elections, government, News | Leave a Comment
Sometimes a headline just catches your attention, and this article's title certainly caught mine.   Senator Clinton can unite the country by dropping out now!
February 22, 2008 | Filed Under Elections, News | 1 Comment
Hillary Clinton almost had a big moment during last night's debate
In what looked like, possibly the best moment of last night's debate for Hillary Clinton with the audience at the edge of their seats, Clinton bombed on a one-liner.  Hillary said that if this primary election is going to be made on words, then they should at least be your words.  The audience was rowdy and sounded like they were going to give Clinton a standing ovation.   What happened next was typical of what has happened throughout this Democratic primary.  Hillary didn't stop while she was ahead, she wanted to go in for the kill.  "That's not change that the people can believe in, it's change you can Xerox…" After that statement, Clinton almost got booed off the stage!
Here's a clip of Hillary's moment with a rebuttal from Barack Obama's supporters regarding her lifting of previous phrases.
"Change you can Xerox"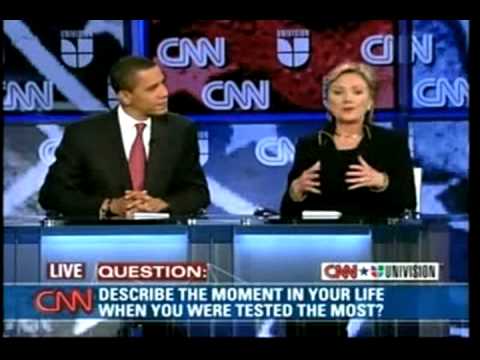 What does this segment of the debate tell us about Hillary Clinton and the democratic party?   Not a whole lot because it's a lot of the same old bickering between two prominent candidates that most Democrats share an affinity towards.  We're starting to see a trend from audiences that show up to these Democratic debates, it seems like more than anything they want both candidates to come out "winners".
Die-hard Democrats are still holding out hope for a "dream ticket."   I'm not so sure that Hillary Clinton would be ready to play second fiddle, unless of course you take into account that she would be in a great position to be president in 2016.  Barack Obama isn't ready to be a VP either and with or without the VP slot, because of age, he may be in a position to run this campaign again if he doesn't win the nomination.