February 17, 2008 | Filed Under Elections, News | Leave a Comment
Milwaukee – Wisconsin, Barack Obama fires back at Hillary Clinton for continuing to attack Barack Obama on his speeches.  Obama calls out Clinton on the negative attacks and says that the American people don't want this, they want someone that can inspire people to work together to solve problems.
Barack Obama "Just Words?" Speech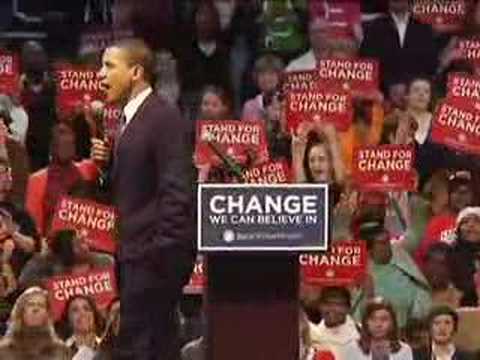 Up until now, Hillary Clinton has had no answers for Barack Obama's surge in momentum.  Her negative attacks are coming off as sour grapes and shooting down idealism and the promise of hope is dangerous for any politician, post-Bush.
February 13, 2008 | Filed Under Elections, government, News | 2 Comments
The video below has the potential to devastate Hillary's chances at cracking the youth vote, recall Howard Dean's yelp heard 'round the world? This is much worse!
How NOT to attack Barack Obama's "Yes We Can" campaign: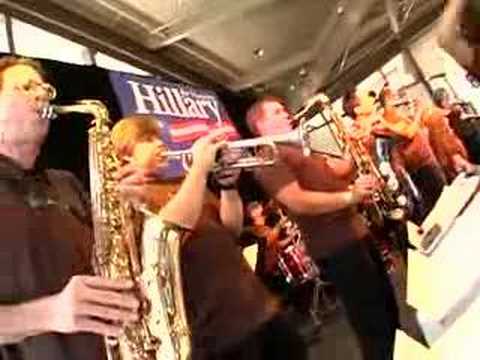 The following is a political opinion, so relax!
Hillary Clinton needs a solution to Barack Obama's avalanche of support
It's no secret, Barack Obama's campaign is inspirational and moving America like no other since JFK and MLK Jr.  Barack Obama is the greatest news to happen to the Democratic party since the nation was prospering (socially and economically) under Bill Clinton's leadership.  Hillary Clinton's biggest problem with liberals and independents is (or was) her stance on the war.  Couple her conservative streak with the twinkle in Barack Obama's eye and it is easy to see where this race is headed.
 Just to be sure, let's look at Barack Obama's video that reaches out to youth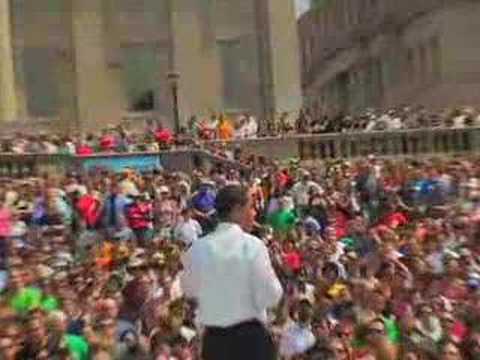 Barack Obama Will Win The DNC Nomination: Clinton needs a Miracle
Suffice to say that super delegates would send America into a further state of disarray if they decide the election for "the party of the people."
February 12, 2008 | Filed Under News, War | Leave a Comment
War kills, it's a fact.
Our soldiers are dying, our loved ones are hurting, corporations are profiting.
February 10, 2008 | Filed Under Elections, News | Leave a Comment
Senator Barack Obama gave a victory speech in Virgina after his clean sweep this weekend.   In addition to winning all three states, he picked up the Virgin Islands.   Hillary's campaign is rumored to be in panic-mode.  We'll see how they respond, but chances are that if either candidate sweeps Texas and Ohio, that could be the deciding factor for the Democratic nomination.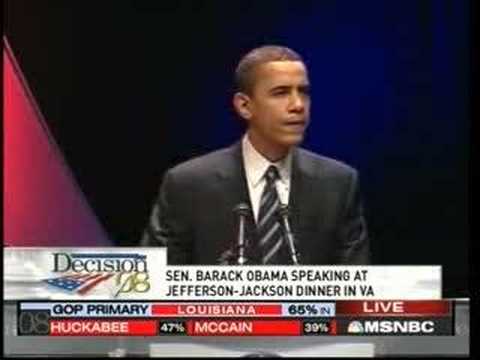 February 8, 2008 | Filed Under government, News, War | Leave a Comment
You will not find something like this in the media, but it captures so much that is wrong with war and how sad it is to lose loved ones due to politics. Sadly, many children are dying in Iraq, not only those of Iraqi women, but American women as well. Some day, the war will be over, but until that day comes — we should all band together and pray for a miracle.
February 7, 2008 | Filed Under Activism, government, News, scandals, War | Leave a Comment
It's appalling to see that so many veterans are homeless and/or suffering from mental disease without any support whatsoever from the same federal government that exploits them and ships them off to war.  These men and women fight for America's safety, freedom, and an honor that few Americans would ever understand.   It is unbelievable how quickly our politicians and "supporters" forget the very people that they exploit in order to push political agendas and war.  The problem is obvious, it is a glaring reflection on societal greed and media sensationalism.
The "I've got mine" crowd could care less about the fate of the Americans at the bottom of the food chain who are struggling to get a warm meal and survive another day.  You want to know why they don't give a damn?  Because we allow them to get away with spouting the rhetoric but when the sky comes falling on our heads, we look the other way and blame no one.  For once, we should assign responsibility to those that created the problem to begin with.   Americans should put the burden on the fools who have impoverished further those who were already poor and pushed death upon those who simply wanted to "be all they could be".
February 7, 2008 | Filed Under Elections, government, News | Leave a Comment
 Lieberman has been driving Democrats crazy for some time now.  Many in the party view him as an outsider now, he is no democrat by most liberal standards.  The biggest blow to the party, courtesy of Joe Lieberman, is crossing over on the war issue and giving Republicans a "model" Democrat to point to whenever they deem it necessary.
Lieberman's endorsement of Republican John McCain disqualifies him as a super-delegate to the Democratic National Convention under what is informally known as the Zell Miller rule, according to Democratic State Chairwoman Nancy DiNardo.  Miller, then a Democratic senator from Georgia, not only endorsed Republican George Bush four years ago, but he delivered a vitriolic attack on Democrat John Kerry at the Republican National Convention. The Democrats responded with a rule disqualifying any Democrat who crosses the aisle from being a super delegate. Lieberman will not be replaced, DiNardo said.
Capital Watch has the lowdown on the rule with a lot more detail, in case you're interested.  "Lieberman no longer a super delegate."
February 6, 2008 | Filed Under government, News | Leave a Comment
February 4, 2008 | Filed Under News | 2 Comments
Libertarians have been trying to warn us about our rights and how quickly they are fading away with the growth of big brother.  The federal government has pushed through "the Patriot Act", the new "Protect America Act" is just around the corner, and thought crimes are quickly becoming an issue for our legislators.
CLARKSBURG, West Virginia (CNN) "FBI wants palm prints, eye scans, tattoo mapping"– The FBI is gearing up to create a massive computer database of people's physical characteristics, all part of an effort the bureau says to better identify criminals and terrorists.
George Orwell predicted this with chilling accuracy.   Expect to see the words, "Orwell spinning in his grave" thousands of times over the next year.
…it's an issue that raises major privacy concerns — what one civil liberties expert says should concern all Americans.

The bureau is expected to announce in coming days the awarding of a $1 billion, 10-year contract to help create the database that will compile an array of biometric information — from palm prints to eye scans.
Congress has been caught up in debate over the issue of our government spying on American citizens and whether it violates our constitutional rights and right under our noses, the department of defense, FBI, NSA and other federal agencies are taking measures to do just that.  It's clear who will win this battle, the people have lost their power and stopping this behemoth seems an impossibility given the candidates we have as "front-runners" and the lack of enthusiasm that Washington generally has for protecting our civil liberties.
Kimberly Del Greco, the FBI's Biometric Services section chief, said adding to the database is "important to protect the borders to keep the terrorists out, protect our citizens, our neighbors, our children so they can have good jobs, and have a safe country to live in."
Yes, that's how everything happens.  It's about national security, the terrorists, mushroom clouds.  Be afraid and if you're not afraid, don't worry one bit because our government and agencies are waiting for the appropriate time to prey on our fears.  The fears don't have to be rational, they just have to be successful– BOO.
  …it's unnerving to privacy experts.

"It's the beginning of the surveillance society where you can be tracked anywhere, any time and all your movements, and eventually all your activities will be tracked and noted and correlated,"

said Barry Steinhardt, director of the American Civil Liberties Union's Technology and Liberty Project.
This isn't a new phenomenon, the fact is that the FBI and NSA have plenty of data on our citizens that has accumulated under secretive measures.  I wish I could share the extent to which our rights are being abused, but I don't have security clearance and I likely never will.  The problem with the continued use of technology to engage in surveillance is that as we try to "update" policy like that found in the FISA legislation, we are forgetting that we need to secure the rights of the people.  The legislation in its current form is very loosely based wording that allows the government to get away with just about anything.  You can forget suing over 'misunderstandings' and if President Bush has his ways, the telecommunication companies that have assisted in illegally spying on Americans will also not be held to account.
The FBI already has 55 million sets of fingerprints on file. In coming years, the bureau wants to compare palm prints, scars and tattoos, iris eye patterns, and facial shapes. The idea is to combine various pieces of biometric information to positively identify a potential suspect.  A lot will depend on how quickly technology is perfected, according to Thomas Bush, the FBI official in charge of the Clarksburg, West Virginia, facility where the FBI houses its current fingerprint database.
It's clear that the United States will at some point become a police State, especially if neo-conservatives have their way.  The only avenue that Americans have right now is to spread the word.  Learn about the issues and share the knowledge with friends and loved ones.  It'll take a miracle to derail this monstrosity that President Bush has helped to create post-9/11, but I'm not losing all faith in America, I still believe we can reclaim our country and I hope you do too.
January 28, 2008 | Filed Under Elections, government, News | 1 Comment