November 27, 2007 | Filed Under News
Beautiful, just beautiful! The video below is of an autistic young man who sings the national anthem prior to a Red Sox game. He struggles with his disorder, giggles, and the crowd helps him out. It really is heart-warming to see that U.S. isn't this evil empire that everyone outside our borders thinks we are.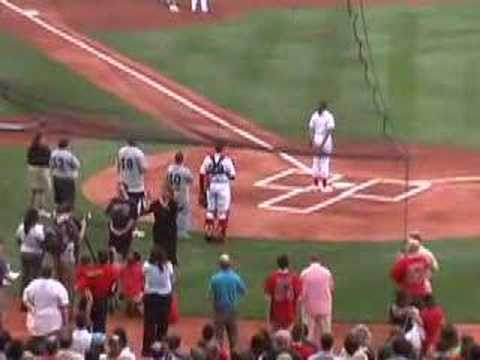 Sometimes, the "patriots" have a difficult time distinguishing between dissent and love of country. I don't blame the politicos for being led in that direction by their political leaders and strategists, but it does suck that we can't all love America and respect each others differences. The polarization of American politics is really hard on our citizens, even though it's not an entirely obvious at times.
Lets face it, sites like this site (unAmerican Revolution) stem directly from the polarization, manipulation and coercion of Americans by various political and corporate interests. This site doesn't represent a group of anti-Americans, but instead… it's people who really love America and just want things back to how they were before all of this exploitation of God and Country started happening. We all want to be a part, to belong, and have a say in the direction of the country.
Some people have taken it upon themselves to deny that right to certain Americans with points of view they don't particularly care for. It's endangering our nation and the tension and growing rift between the left and right is tearing at America's core.
Subscribe to the "unAmerican" Revolution RSS News Feed
Visit Sponsor:
the White House Intel Report
or
Subscribe to the White House Intel Report
Comments