February 22, 2008 | Filed Under Elections, News
Hillary Clinton almost had a big moment during last night's debate
In what looked like, possibly the best moment of last night's debate for Hillary Clinton with the audience at the edge of their seats, Clinton bombed on a one-liner.  Hillary said that if this primary election is going to be made on words, then they should at least be your words.  The audience was rowdy and sounded like they were going to give Clinton a standing ovation.   What happened next was typical of what has happened throughout this Democratic primary.  Hillary didn't stop while she was ahead, she wanted to go in for the kill.  "That's not change that the people can believe in, it's change you can Xerox…" After that statement, Clinton almost got booed off the stage!
Here's a clip of Hillary's moment with a rebuttal from Barack Obama's supporters regarding her lifting of previous phrases.
"Change you can Xerox"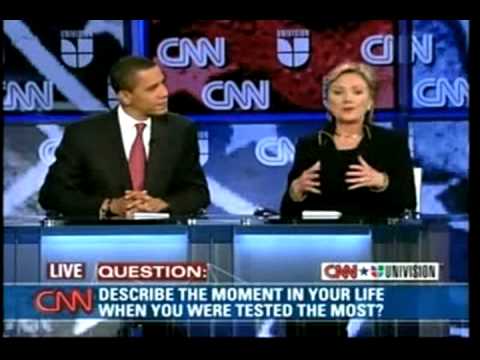 What does this segment of the debate tell us about Hillary Clinton and the democratic party?   Not a whole lot because it's a lot of the same old bickering between two prominent candidates that most Democrats share an affinity towards.  We're starting to see a trend from audiences that show up to these Democratic debates, it seems like more than anything they want both candidates to come out "winners".
Die-hard Democrats are still holding out hope for a "dream ticket."   I'm not so sure that Hillary Clinton would be ready to play second fiddle, unless of course you take into account that she would be in a great position to be president in 2016.  Barack Obama isn't ready to be a VP either and with or without the VP slot, because of age, he may be in a position to run this campaign again if he doesn't win the nomination.
Subscribe to the "unAmerican" Revolution RSS News Feed
Visit Sponsor:
the White House Intel Report
or
Subscribe to the White House Intel Report
Comments